Welcome to
Hotel Marta Guest House Rome
, search and book your room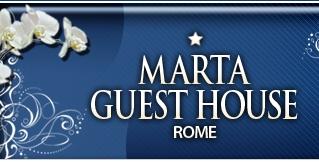 Home > Hotel
Marta Guest House is in an elegant building which is lively and rich in restaurant, stock of vintage wines and all sorts of shops (that are cheaper than the ones on the historicla centre of the city). The historical centre is on the opposite side of the river Tevere, and you can easily reach it crossing Cavour Bridge or Umberto the ist Bridge.

The district "Prati" is at the back of Castel Sant'Angelo, It's vary safe and it has a famiuly atmosphere. It is also very elegant. If you have seen Ettore Scola's movie "La Famiglia" (The Family), with Vittorio Gassman and Fanny Ardant, you will certainly remember the typical flat of the building of this district, where the roman middle classes lived at the
beginning of the XX century.
Give us your Feedback
Marta Guest House, Via Tacito, 41 - Rome